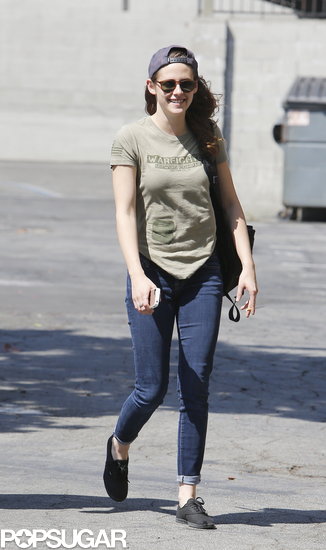 Kristen Stewart began filming Camp X-Ray today to the fanfare of the paparazzi (of course). Kristen can be seen here dressed in full army fatigues as she films (spoilers).
Kristen wore
a Warfighter Brewing Company t-shirt (seen above)
during pre-production. This is a company which makes beer and employs veterans.
Today, they sent out a tweet of support:
WE SUPPORT YOU KRISTEN!GOOD LUCK WITH XRAYKristen Stewart shows off her gorgeous smile in LA in these exclusive pics: http://t.co/jSgRrIU7L1
— WARFIGHTER BEER (@WARFIGHTERBEER) July 17, 2013
For fans who want to purchase a t-shirt to support the veterans, check out their tweet below:
Everyone wants to know where to get the hottest T-Shirt in town... https://t.co/MzPLxE0QtR
— WARFIGHTER BEER (@WARFIGHTERBEER) July 16, 2013
Also, the Tactical Media Group praised Kristen's work ethic while in training for her role. TMG wrote about her respect for the military saying, "She [Stewart] is one of the hardest working actors we have ever trained."
Kristen has received such praises from many of her fellow actors. Her dedication being recognized by military experts is one of the highest honors she can receive from those who know.
Read their full excerpt below:
Source/Source/Source