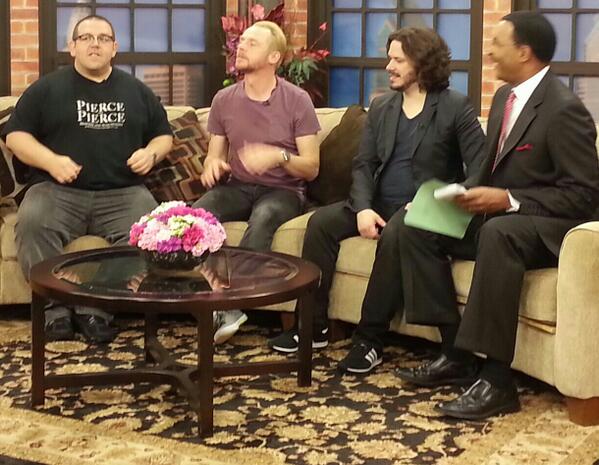 Nick Frost, Simon Pegg, Edgar Wright with
CBS 3 News Anchor & Talk Philly Co-host Ukee Washington
Somewhere in the City of Brotherly Love,
Nick Frost, Simon Pegg and director Edgar Wright were taking it over as they promoted The World's End during their Last Call Tour on Wednesday.
The Last Call Tour has the trio traveling across the United States for the screening of the last film in the Cornetto trilogy while meeting fans along the way. So far the tour has brought them to the cities of Dallas, Austin, Boston and Washington, DC.
(See where the tour goes next below).
Taking the time to make the rounds with the local media and fan events, Frost, Pegg and Wright got to experience some of the Philly scene during the visit.
Read more after the break
Check out more photos, video interviews etc... of the promotional visit below.
Remaining Last Tour Schedule
Check here to see when more cities are added
Chicago, IL| August 2nd
Time: SHAUN OF THE DEAD @ 7pm
Q&A with Edgar Wright, Simon Pegg & Nick Frost @ 8:45pm
HOT FUZZ @ 9:30pm
The Music Box Theatre, 3733 N. Southport Ave.
Get tickets: http://www.aintitcool.com/node/63367
Frost, Wright and Pegg Visit Philly
Frost, Pegg & Wright visit WMMR Radio Station
Listen Here
'Shaun of the Dead' screening at the Awesome Fest at
Eakins Oval in Philadelphia
Philly, that was fantastic. Thank you.
— Nick Frost (@nickjfrost) July 31, 2013
Today, @nickjfrost went to the ballgame and I visited a museum of medical oddities. #VisitPhilly
— edgarwright (@edgarwright) July 31, 2013
Northern Liberties sounds like a wintry region in Game Of Thrones. #VisitPhilly
— edgarwright (@edgarwright) August 1, 2013
Magnificent, epic meal at @marcvetri. Am quite full and quite tipsy.
— edgarwright (@edgarwright) August 1, 2013
I am having an exceptionally boozy dinner in Philly. #blowout
— edgarwright (@edgarwright) August 1, 2013
Dear bar playing 'Mister Tough' by Yo La Tengo, I love you.
— edgarwright (@edgarwright) August 1, 2013
Met a friend I made on Twitter in Philly, here's @marythewretched's Tumblr all about it. http://t.co/ROpJlcJrv4
— Simon Pegg (@simonpegg) August 1, 2013
Source/Source