SWATH AT THE OSCARS 2013: CHARLIZE DANCES, KRISTEN LIMPS WITH A SMILE, COLLEEN ATTENDS (VIDEO & PHOTOS)
SWATH was well represented at the 85th Academy Awards
(now known as the "Oscars") ceremony last night at the Dolby theater (formerly known as Kodak) in Los Angeles.
More after the jump
Colleen Atwood with guest
Both Kristen Stewart and Charlize Theron participated in the festivities as nominee Colleen Atwood and the Visual EFX team from Rhythm and Hues attended.
In a red carpet interview, Theron talked about the SWATH costumes and working with Atwood.
Oscar host Seth MacFarlane's opening skit included a song routine called "We Saw Your Boobs" which included a line for Stewart referring to her topless scene in On the Road and Theron's scene in the film Monster.
Watch the look on Theron's and other actresses faces when their names are called in the video below.
Theron also participated in the opening skit performing a 1930's Ginger Rogers and Fred Astair-styled dance routine with partner/actor and former exotic dancer, Channing Tatum as MacFarlane sang.
Tatum led Theron as she smiled showing off her grace and rhythm as the audience applauded the efforts. Tatum can be seen showing off his dance moves lately as a male exotic dancer in last year's box office hit, Magic Mike.
Unfortunately dancing was not in the cards for Stewart as she limped onto the stage after a colorful introduction by MacFarlane, calling Stewart and her co-presenter Daniel Radcliffe of Harry Potter fame, the "boy wizard" and the "girl vampire" from Twilight.
Stewart walked without and assistance from Radcliffe or from the crutches she dawned earlier on the red carpet (being the tough girl that she is) to present the Best Production Design award to the winner Rick Carter for Lincoln.
Seen back stage rehearsing with Radcliffe
Stewart, Carter, Radcliffe in press room
Stewart had surprised everyone earlier on the red carpet when dawned a pair of crutches.
Her
makeup artist Beau Nelson told People her injury was due to a lacerated foot from glass she stepped on a couple of days ago.
MTV News reporter Josh Horowitz got a quick response out of Stewart regarding her injury calling herself "an idiot."
Movies Red Carpet Live Event
Get More:
But of course fashion was at the forefront at the Oscars. For
mer Destiny's Child singer and red carpet host for the ABC network, Kelly Rowland, had her own personal preferences for who was Best Dressed. Although the audience selected Jennifer Lawrence as their favorite, both Theron and Stewart were hers. That is not bad coming from a woman who knows a thing or two about fashion.
Rowland fawned over Theron's haircut and said about Stewart's injury that, "she just carried herself with such calm and grace."
Stewart looked radiant and as sassy as ever in "a pale, blush, strapless, couture, hand-beaded" Reem Acra gown (a designer she wore at Cannes last year).
Although SWATH did not win, it was placed up on the biggest stage in the world for film nonetheless. Universal's Les Miserables and Anna Karenina (Winner Best Costume) both won several awards and the SWATH Visual EFX team won for Life of Pi (Winner Visual EFX). (See the complete list of winners here)
See Stewart with Eddie Redmayne, Anne Hathaway and Jamie Fox in video and photos along with more photos of Theron below.
MORE PHOTOS & VIDEOS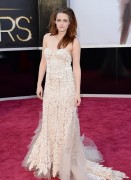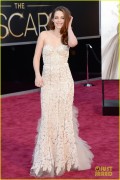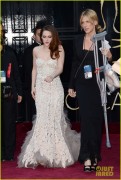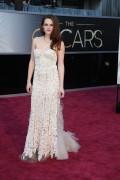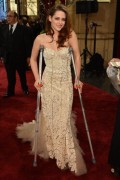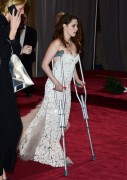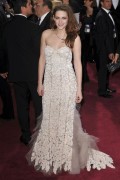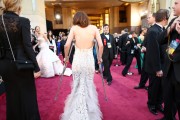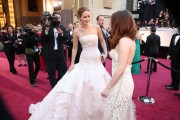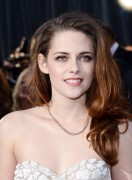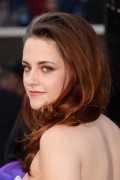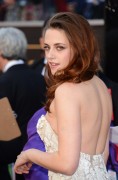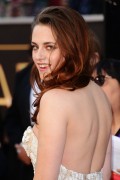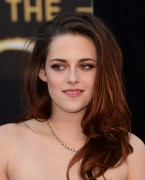 Stewart practicing backstage & presenting on stage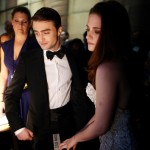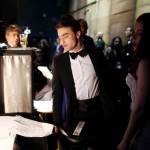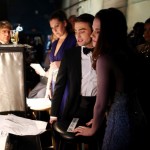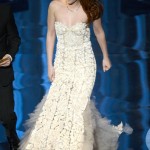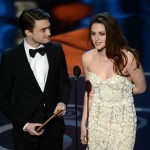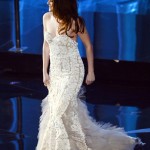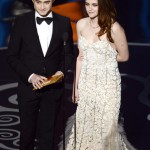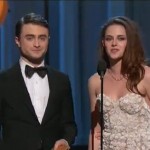 Kristen in press room with Carter and Radcliffe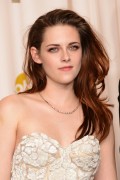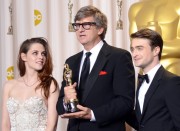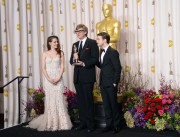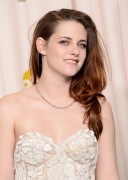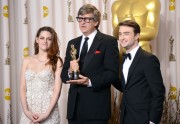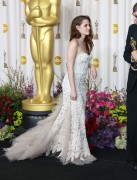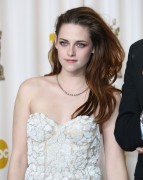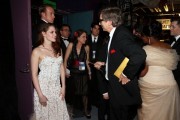 Charlize dancing with Channing Tatum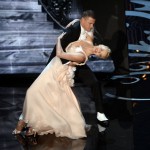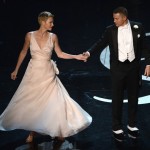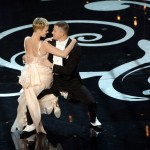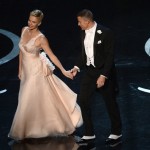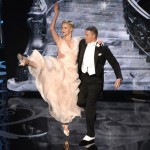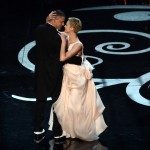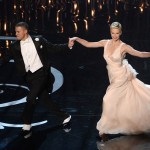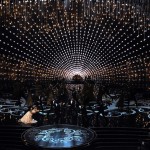 Charlize presenting with Dustin Hoffman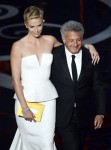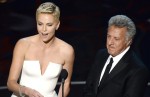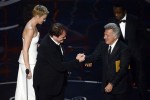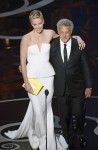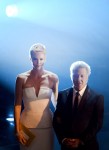 All videos belong to EB (Source: ABC)
unless otherwise identified
Sources: 1 2 3 4 5 6 7 8 9 10 11 12 13
Getty