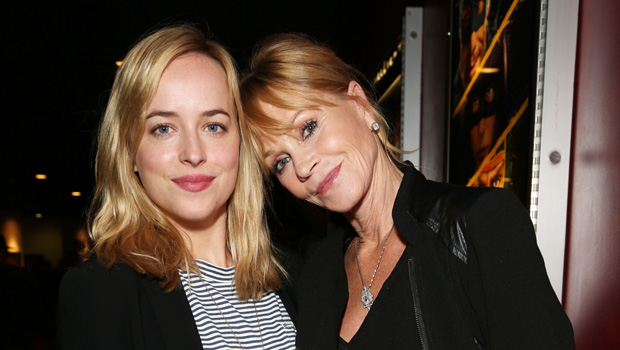 Source: Dakota Johnson with her mother Melanie Griffith
Was it her acting chops or her Hollywood pedigree that landed the daughter of Hollywood royalty the most recent coveted role? Today, E.L. James announced on Twitter that
Dakota Johnson landed the role of Anastasia Steele in Universal Pictures highly anticipated Fifty Shades of Grey.
Most of the entertainment pros speculated that the roles of Christian Grey and Ana Steele would be filled with huge Hollywood names in order to sell the film. Evidently this was not the focus of E.L. James and her fellow producers when it came to filling the role of the protagonist Ana Steele.
Universal found its Christian Grey
Yes, Johnson is the daughter of Hollywood royalty but a major name she is not.
She's the daughter of Academy-award nominee Melanie Griffith who is known for her role as Tess McGill in the Oscar nominated Working Girl and Golden Globe winner Don Johnson who is known for his role as James "Sonny" Crocket in the award-winning TV series Miami Vice and recently appeared in the Oscar nominated film Django Unchained.
But that's not all.
Griffith's mother and Johnson's grandmother is the famed TIppi Hedren who starred in one of Alfred Hitchcock's classics The Birds. Hedren recently had a biopic released by HBO starring SWATH's Emmy nominated Toby Jones for his role as Hitchcock in The Girl.
Oh and one more connection...Griffith is currently married to one of Hollywood's sexy hunks by the name of Antonio Banderas who starred in the blockbuster Zorro which had Stephen Spielberg as an executive producer. Banderas is known to kids today as the swashbuckling Puss in Boots in the successful Shrek franchise.
Is that enough to get her the role? Maybe.
Let's hope that her Hollywood pedigree translates into talent because her resume is light for any major roles as an actress.
Johnson has appeared in films such as
The Five Year Engagement and 21 Jump Street. However, being only 23-years old, this may just be the stepping stone that she needs.
However to get a glimpse into what her Ana could be, check her out in The Social Network where she plays a somewhat naive college student. Johnson was Ana in the making.
Considering that her mother Melanie Griffith is known to be a little risque with what she is willing to do, this is not surprising to see the daughter fulfilling the shoes.
Johnson's pedigree goes far beyond just having Hollywood DNA. Johnson has grown up around a few strong-willed and tough actors. Her father is known for his toughness and her grandmother isn't any pushover (see The Girl).
Even her step-father, Bandaras, has been known for being a little risque in roles such as Original Sin starring with Angelina Jolie and taking chances in roles like Philadelphia as Tom Hanks's gay boyfriend, singing and dancing in Evita starring Madonna and as Poncho Villa in And Starring Ponch Villa as Himself.
Johnson may just be the right selection for Ana Steele and would be able to handle such a challenging role for her age.
It will be exciting to see how she will translate Steele on screen. So stay tuned to see who will be cast as Christian Grey.
Antonio Bandara, Don Johson and Tippi Hedren
Movie source: IMDb
Photos: Zimbio