SWATH's Johnny Harris along with director/writer Tom Green
announced today the World Premiere screening of their film Monsters: Dark Continent at the press launch for the British and International (BFI) London Film Festival held in London at Odeon Leicester Square.
MDC is noted to be one of the remaining Sci-Fi films worth seeing in 2014.
The festival will commence from October 8th to the 19th where several categories of films will be screened from First Screening to Debate.
MDC will be shown in the Thrill Gala category. Tickets for screenings go on sale September 18, 2014 at 10 AM. Click here for ticket information.
The screening times and locations are as follows:
Oct 9, 2014 8:45 PM at the
Empire IMAX Leicester Square
Oct 18, 2014 8:45 PM at the
Odeon Covent Garden, Screen 1
Oct 19, 2014 8:30 PM at the
Odeon West End, Screen 2
MDC opens in theaters November 28th in the UK
.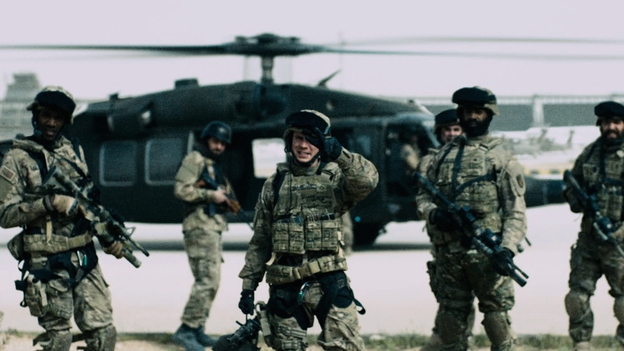 Director Tom Green
Producers Allan Niblo, James Richardson, Rory Aitken, Ben Pugh
Screenwriters Jay Basu, Tom Green
With Johnny Harris, Sam Keeley, Joe Dempsie
Jordan-USA-UK 2014
122 mins
UK distribution Vertigo Films

A miracle of high ambition and low budget, Gareth Edwards' 2010 debut Monsters redefined what was possible for both British sci-fi and indie cinema. Taking his cue from the first film's subtle layering of human drama over jaw-dropping visual effects, first-time feature director Tom Green has expanded Edwards' universe to the Middle East where, seven years after the events that first brought an alien infestation of squid-like creatures to the Earth, there are now quarantined Infected Zones, just as there once were in Mexico. As wars continue to break out in the region, American forces, led by jaded veteran Noah (Johnny Harris), find themselves vulnerable on two fronts – fighting these extra-terrestrial invaders while defending themselves from local insurgents in whose land they are seen, ironically, to also be invaders. Mixing social comment with spectacle, Monsters: Dark Continent is a rare sequel that respects its predecessor's belief in the right combination of realism and wonder. ~~ Damon Wise
[BFI]