STEWART FRONT ROW AT BALENCIAGA'S PARIS FASHION SHOW AS BALENCIAGA TRENDS ON TWITTER
Kristen Stewart & Selma Hayek
A little after 4am east coast time, the Balenciaga Paris fashion show began. Although the clothes were to be the highlight, SWATH's own Kristen Stewart being
the face of Balenciaga's new fragrance Florabotanica
stole the show. Someone
tweeted that there were more paparazzi outside than fashion show patrons entering.
Broadcast via Livestream on Balenciaga's website, Stewart's entrance was the most anticipated as photogs clamored to take pictures of her alongside Academy Award nominated actress Selma Hayek before the show began.
After the show ended, "Balenciaga" began trending on Twitter and there is only one reason for that...Stewart.
Stewart (l) and Wintour (r)
Placement at a fashion show lets one know where one stands in the pecking order of the fashion elite. Stewart, seen in this photo, was seated next to fashion icon and Vogue Magazine guru Anna Wintour. Yes, Stewart is high up on that ladder.
Hobknobbing with the world's fashion elite, Stewart is pictured here with Harper's Bazaar UK fashion director Gabriel Hackworthy.
Balenciaga featured their Spring/Summer 2013 line which Stewart also wore. You could not miss Stewart in a "printed primrose yellow Balenciaga biker jacket, floral patterned trousers and chunky ankle boots" as described by Elle UK.
The next big appearance for Stewart will be the promotion of her final Twilight movie, 'Breaking Dawn Part 2' which will begin in October.
Check out more photos and videos of Stewart's Paris Fashion Week appearance below.
Stewart on left/Hayek on right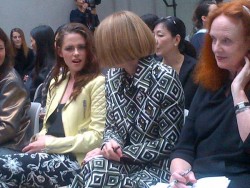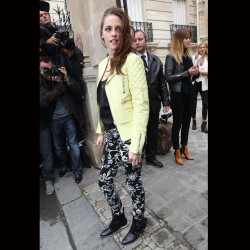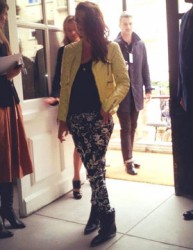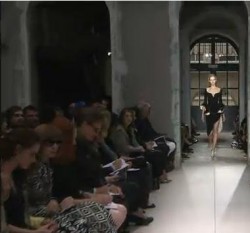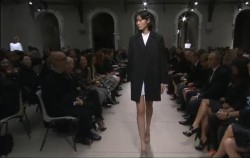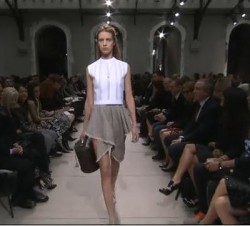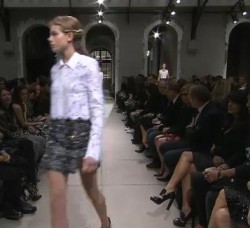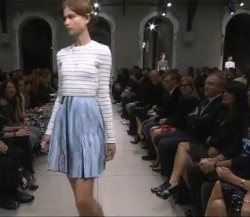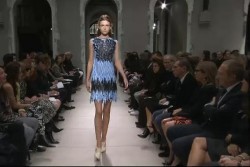 Stewart is seen on the left-hand site as Hayek is see on the right front.
Kristen Stewart at Balenciaga PFW - FULL
by veronicaspuffy